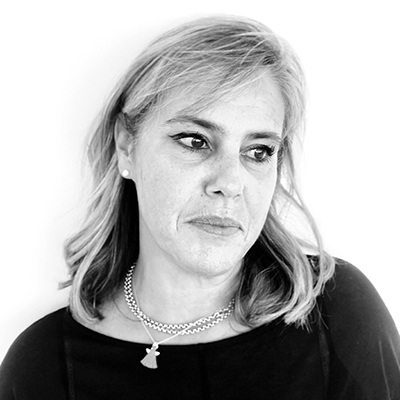 Teresa Franqueira, Associate Professor at the University of Aveiro, Portugal.
Teresa Franqueira is a designer and the Director and Scientific Coordinator of the Design Factory Aveiro at the Creative Science Park Aveiro Region.
She has a PhD in Design at Politecnico di Milano; a MsC degree in Industrial Design; a Postgraduate degree at the Glasgow School of Art and Portuguese Design Centre and a BsC degree in Product Design.
Teresa is a senior researcher at the ID+ Research Unit (University of Aveiro and University of Porto) , and was the founder and coordinator of the research group ID+ DESIS Lab (from 2011 till 2018), and is member of the International Coordination Committee of DESIS Network – Design for Social Innovation and Sustainability.
She is part of the Rectory Team for Pedagogical and Curricular Innovation.
She is a Visiting Professor at Kedge Business School in Paris and was Visiting Professor at the Product Design Master at the Faculty of Fine-Arts (University of Porto), at the Politecnico di Milano and at Tongji University in Shanghai in 2015 and 2016.
Her research interests focus on themes related to product-service design, design thinking, social innovation, circular economy and alternative scenarios towards more sustainable economic and social models.
In the last years, she was the local coordinator of four international Erasmus + projects and was involved in other European research and Erasmus projects in thematics such as education for creative thinking, for social innovation, for circular economy and sustainability. She is now coordinating an Erasmus+ Strategic Partnership at the University of Aveiro and is a National Delegate and Member of the Management Committee for the COST Action 18236 - SHIINE.
Teresa has been invited as a keynote speaker in national and international conferences and to organise several workshops (Italy, Portugal, Sweden, UK, Finland, Brazil, China, Turkey, Cambodja, Thailand, Myanmar, Malaysia, among others).
She has been supervising PhD students and Master students within the topics of Design for Social Innovation, Design for Sustainability, Product Design and Service Design. She is also a member of several national and international Design Conferences scientific committees.
As a designer, she has participated in several national and international exhibitions and has developed both interior design projects (within her own design studio) and projects for the Portuguese glass industry (as in-house designer). She has also been a jury member of several design competitions, and a consultant to the Design+ programme promoted by the Portuguese Design Centre. She was also commissioner for the More Design More Industry Programme in Paredes Municipality. She has also been jury for national design competitions and evaluator of research proposals in Austria, Brasil and Italy.